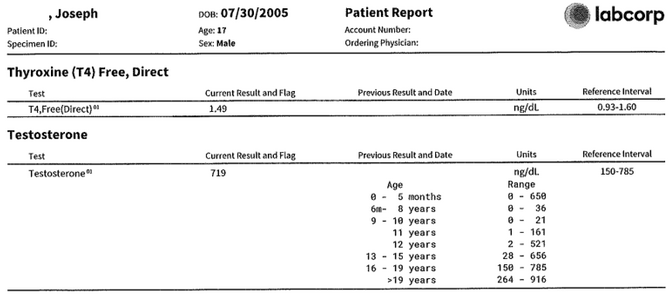 My test levels are at 719 ng/dL which is the higher end for a guy my age 16-19 years old. Keep In mind I literally eat fast food everyday and I drink lots of soda and sugary snacks and I literally never exercise. Keep coping gymcels!
Also JFL at jewish doctors saying that having literally 2 ng/dL test level at 12 is normal. Not to mention having 150 ng/dL test level at 19 holy fuck the doctors are retarded and want the masses dead. I think I was in the four digit T levels back in the summer when I was working out a lot in the sun and doing nofap. It was probably chad tier T levels ngl.
I don't recommend working out or doing nofap btw but that could've increased it. Mostly just sun exposure though.
JFL @ all you who said I looked soft as well. I just don't have facial or body hair because of my race it's that simple.
@Kahn
@Aphex
@fatchadlitecel
@geomaxer
@The 13th Warrior
@predeterminism
@Kevin_Logan
@Bestimmung
This probably also explains why I'm so aggressive IRL and not a pawn of the matrix. It all makes sense now.