Koreans and Westerners have different beauty standards with some things shared and some things different.
But where Koreans and Westerners diverge the most is their idea of ideal facial bone structure. Koreans naturally have some of the best facial bones of any ethnic group (according to Western beauty standards). However, women having well defined facial bones is not seen as desirable by Asian beauty standards. Instead they prefer their women to be more neotenous and less robust-looking. This is why one of the most common surgeries in Korea is female jaw reduction.
In this image below, you can see a woman, who by western standards has a high PSL face. Most westerners will look at the before and after and say that the woman descended her looks hard by reducing her facial bones. Most easterners will look at the after and say it was an improvement because she looks more feminine.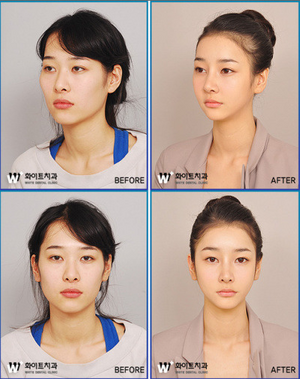 The point being, that there are Korean women with high PSL faces (according to western beauty standards) that have low SMV in Korea. Therefore by geomaxxing there, it may be a lot easier than you think to date a woman who, in your eyes, looks like a stacylite but the local men treat like a LTB/MTB.