Seems to me that one metric for determining the best geomaxxing targets will be how shit their economic conditions are.
When there is heavy inflation, normie living standards are typically in a free-fall, so if you walk in with a harder currency like dollars/euros you will be able to buy people's time and goods/services cheap no matter what. This is everything from hotels to food to escorts to clothing/tailoring, women's attention, etc.
If we look up the countries with the worst inflation problems this is the list:
Venezuela — 1198.0%
Sudan — 340.0%
Lebanon — 201.0%
Syria — 139.0%
Suriname — 63.3%
Zimbabwe — 60.7%
Argentina — 51.2%
Turkey — 36.1%
Iran — 35.2%
Ethiopia — 33.0%
The trick is finding one of these countries where you won't also get goremaxxed or AIDS, because the bad economic conditions will also make crime and STD prevalence worse. I've also collected the stats for popular geomaxxing targets to see how they compare. I've used the newest year available for the GDP estimates.
So if we also consider their homicide rates as a proxy for crime and HIV rates as a proxy for how risky the sex is, we get the table below: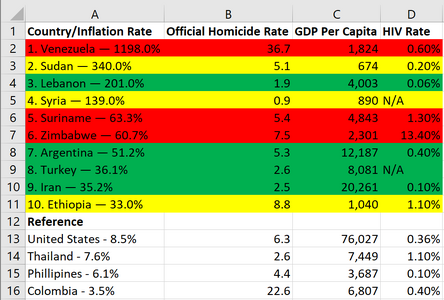 As you can see, Venezuela has the worst economic conditions with respect to inflation, but it's also a good place to go if you want to get goremaxxed. Zimbabwe is not that bad in terms of crime compared to colombia, but you are far more likely to catch aids.
The countries in green have lower homicide rates than the United States and are likely as safe or safer than it on average. The countries in red are higher than all of the reference countries either in homicides or in HIV prevalence. The countries in yellow are poor enough that their population statistics are likely not credible. Syria for example is an active warzone/has mostly old statistics.
We're left with Lebanon, Argentina, Turkey and Iran as some potentially untapped prime geomaxxing targets.
For westerners, I'm going to assume that going to Iran could be an issue, so unless someone knows better that could probably be put aside. I have heard that JBWmaxxing works well in MENA - would like to hear stories. And Argentina could be a good place for general lifestylemaxxing simply because of their currency problems and the usual Latina JBW dynamic (although Argentinians are supposed to be a lot whiter than the rest of South America, so JBW may not be as effective).
tl;dr
Turkey/Lebanon should be looked into more.