It was on Japanese News a few days ago
81.3% of women are demanding their partners to have "good looks". Experts said that "changes in the economic enviornment impacted it"
The Japanese government has decided to include childcare support, such as issuing coupons to purchase childcare products to families with children between the ages of 0 and 2, as part of this month's comprehensive economic measures.
There's a strong sense of urgency about the decline in the number of births
There is also concern that the number of couples getting married is declining
Amidst this sense of crisis, the latest public opinion polls show that there are many changes in the conditions that women demand of their marriage partnersing.
The highest percentage of history, 81.3% of women said they value or consider the 'appearance' of the their male partner"
Furthermore, it's the first time that results show that women look more at appearance than men"
Single woman in her 20s: "To be honest, looks are important. I understand that feeling. If we walk together and that he's handsome, it motivates me. I'm gonna work hard at managing myself."
Single woman in her 20s: "I'm sure. It's a world where not everyone make money. So you need a face that can make me forgive you (for the lack of money). If you don't have money, I can't forgive you. Even at work, if you're good-looking, your bosses will like it. Because you're gonna go up, your earnings will also go up. So then, you'll end up looking like a capable man."However, when it comes to men's perspective...
Single man in his 20s: "If they are demanding us to be handsome now, I think that it will be hard for us to get married
Single man in his 20's: "I think that it would be nice to marry someone who treats you warmly"
In addition, in this survey, it was found that women place importance on 'economic power' at an unchanged high rate.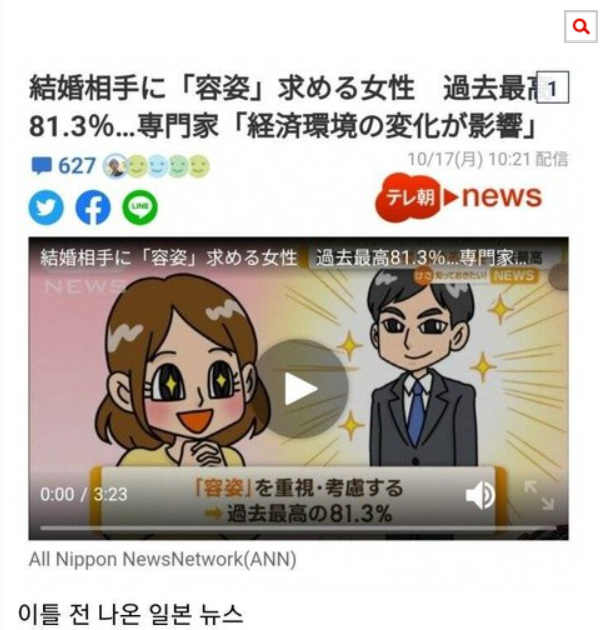 We translate Pann articles about Korean news, music, drama and lifestyle

www.pannchoa.com
Source."